Blind Meeting In Bushwick, New York (2015)
– A Tribute to Barbara DeGenevieve
Live streaming project from Miao Jiaxin Studio
2 virtual friends are arranged for an actual meeting in Miao Jiaxin studio. The meeting duration is 24 hours. Within 24 hours, participants shouldn't leave the studio. They cook the food they brought to the studio. And they don't sleep until the next day. The entire meeting is live feed broadcast on the internet.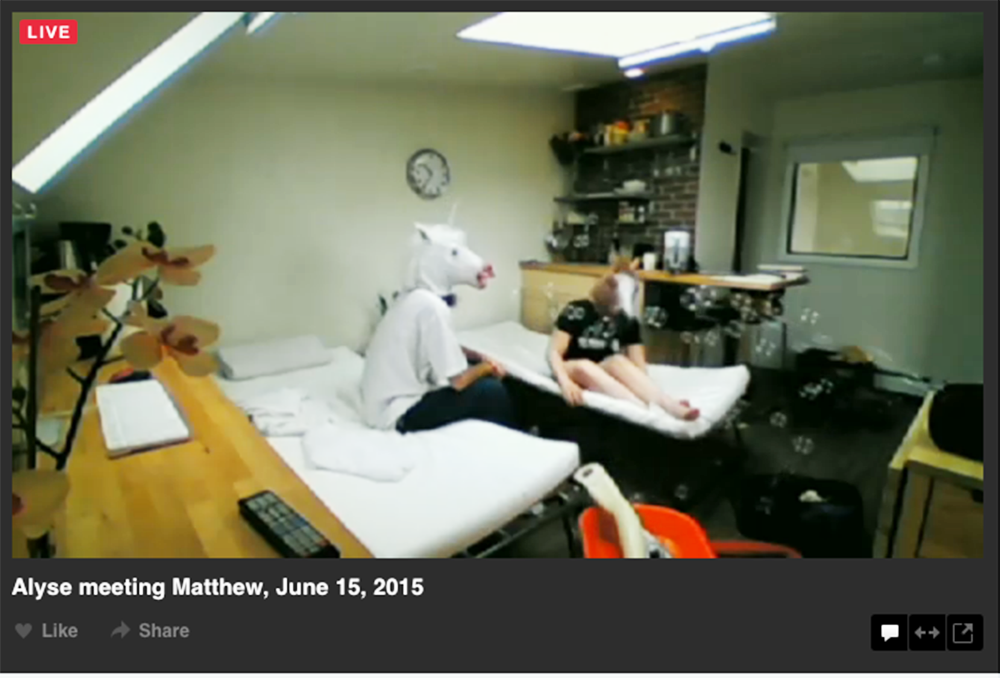 Text
Blind Meeting is not an English term, but you know what I am talking about. In this art project, the participant will meet a "friend" who he/she knows from social media sites but has never met in person previously.
Miao Jiaxin studio provides 3 days of Free accommodation in Bushwick, Brooklyn. We welcome people traveling from all over the world. This listing is also available on Airbnb. https://www.airbnb.com/rooms/4688431
Conditions
1. ) 2 people per meeting ONLY. You two will have to be social media (e.g. Facebook) friends. You've never met in person prior to the project. 
2. ) 24 hours commitment to the project. American Eastern Time from 10AM to 10AM.
Within those 24 hours
a. The room is monitored and LIVE streamed online. 
b. You CANNOT sleep.
c. You are free to do anything just like your own home, but you CANNOT leave the room.
d. You have to MAKE something: Make conversations, Make meals, Make objects/artworks, Make wishes/promises/decisions, Make a miracle if you can, Make love or anything based on mutual agreement.
More Details you might be interested in:
A ) Well located in Bushwick, Brooklyn, the Blind Meeting room is 3 blocks away from Subway J train, and 12-15 mins away from Lower East Side Manhattan. All kinds of convenience can be found in this hip neighborhood.
B ) The room is monitored and reported via live stream online only within 24 hours. But you do have a full bathroom without cameras installed. Fresh sheets, shower towels, blankets and pillows are provided. The kitchen is equipped with all the normal utensils, but food must be brought by the participants.
C ) Built on the top floor of the building, the Blind Meeting room with skylight stays sunny and bright. With the access to the roof deck, you are greeted with fresh air and great view of Brooklyn and Manhattan.
LIKE Miao Jiaxin Studio, check CALENDAR tab, and BOOK NOW via Message.
Reservations are accepted from January, 2015.
Calendar:https://www.facebook.com/miaojiaxinstud…/app_101709316537832
Live Stream: https://new.livestream.com/accounts/8810058/miaojiaxinstudio
A Tribute to Barbara DeGenevieve:
Last time I saw Barbara was in Chicago in February, 2014. She sat there across the table, and I could feel she was such a powerful woman spiritually and physically. She was the same Barbara I always knew, except she wore a scarf wrapped around her head because she lost all her beautiful white hair after chemotherapy. Yes, she said, Miao you may have heard that I have cancer. She told me that she was waiting for another major surgery in April, and then she was planning to come to New York for museum shows and her art projects. She knew I have my own studio/home in Brooklyn, and I've always told her whenever she feels like a visit to NYC, she should stay with me. This time Barbara seemed very positive. She said, Miao I will definitely come to NY after the surgery, and I want to make a piece of art together with you in your studio. She didn't know exactly what she wanted to do, but she had a plan that we would setup video cameras, and prepare enough food, and stay together for 24 hours without sleep. Within those 24 hours, we would discuss, decide and make something happen. My major concern was so realistic. I told her I was not sure if I could handle 24 hours without sleep. She laughed at me, and said, Miao you must be kidding me, you've never pulled an all-nighter? I looked at her. She was 67 years old, and she was actually very sick.
I went back to New York. I didn't dare to ask about her surgery, but I was positive and waited for her to contact me. And I was always ready for this 24-hour challenge. In the middle of the summer, I was told that Barbara died.
Miao Jiaxin studio is now announcing its 24-hour project Blind Meeting In Bushwick. As a lucky student, as a courageous artist, as a simple person, Miao Jiaxin owes so much to Barbara DeGenevieve.